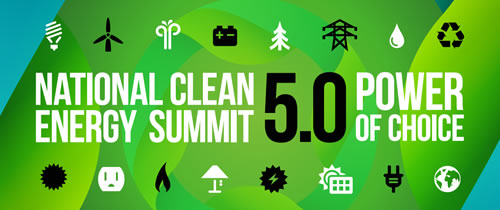 Aug. 10, 2012 – Hundreds of people gathered in Las Vegas earlier this week to attend the fifth annual National Clean Energy Summit – where TransWest Express LLC was once again an exhibitor.
Clean energy leaders, public officials, business leaders and other stakeholders focused this year on the "power of choice" and "how to empower the public with tools to promote the clean energy economy, increasing jobs and our energy independence."
With a major clean energy transmission project that's designed to significantly increase the public's access to cost-effective renewable electricity supplies, TransWest Express was featured in the opening session of the program – interviewed live before the summit audience. (Watch the clip online, included within NCES 5.0 Part 1.) Throughout the rest of the day, multiple attendees including U.S. Senate Majority Leader Harry Reid stopped at TransWest's exhibit to learn more about the TWE Project, a proposed 725-mile direct current power line to deliver the region's best wind energy in Wyoming to utilities and customers in the densely-populated Desert Southwest.
In addition to Sen. Reid, other summit speakers included President Bill Clinton, U.S. Secretary of the Interior Ken Salazar, Secretary of the Air Force Michael B. Donley, FERC chairman Jon Wellinghoff and U.S. Rep. Shelley Berkley, among others.
# # #