May 19, 2017 – TransWest Express LLC representatives spoke at two state energy conferences this month to update elected officials and the public about the TransWest Express Transmission Project and its electrical, environmental and economic benefits for the states and for the region.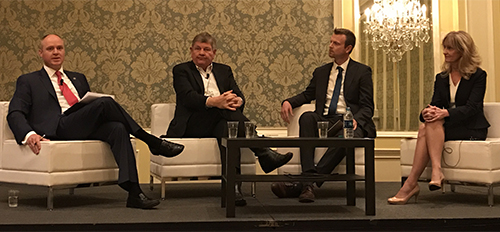 Utah panel discussing federal energy policy and energy projects,
featuring TransWest's Roxane Perruso
In Utah, Governor Gary R. Herbert hosted his sixth annual Utah Energy Development Summit on May 3-4. Sponsored in part by TransWest for the sixth year, the two-day conference focused on innovations driving local and global economies and building a sustainable energy future for Utah. The event included a discussion on western energy leadership with Governor Herbert and Wyoming Governor Matt Mead. In addition, TransWest vice president and general counsel Roxane Perruso joined a panel discussing federal energy policy and energy projects.
In Wyoming, Governor Mead and the Wyoming Business Report hosted the fourth annual Wyoming Energy Summit on May 18 in Cheyenne. The event explored the state of the energy sector and the multiple opportunities that exist for Wyoming. TransWest CEO Bill Miller was again among the selected presenters and served on a panel discussing how wind energy and transmission can help diversify the state's economy. The TWE Project, for example, will add 3000 MW of new electric transmission capacity that will uniquely and directly connect California and Desert Southwest energy markets with Wyoming energy resources.
About 390 miles of the TWE Project transmission line will be located in Utah, representing a $500 million to $700 million investment, and a potential future terminal is also permitted and planned near Delta, Utah. About 92 miles of the TWE Project and a northern terminal complex will be located in Wyoming, representing an approximately $1 billion total investment.
- XXX -