Nov. 20, 2017 – For the ninth consecutive year, TransWest Express LLC attended and sponsored the Utah Association of CountiesAnnual Convention in St. George. Held Nov. 15-17, the UAC convention provides education and training for county officials statewide.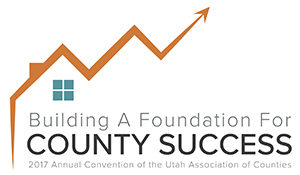 TransWest's planned TransWest Express Transmission Project threads through nine Utah counties, so the annual event is an opportunity to provide updates and information to county and state officials who attend, and to answer questions about the transmission project and its progress. The TWE Project extends from south-central Wyoming to Boulder City, Nevada, and has a third terminal planned near Delta, Utah, in Millard County.
Since TransWest last sponsored the UAC convention in 2016, the TWE Project has received the key federal decisions determining where the project would be located on federal lands. About two-thirds of the total route is on federal land primarily managed by the Bureau of Land Management and the U.S. Forest Service, and the project is co-located with existing linear infrastructure as much as possible. Counties along the route participated in the federal analysis process (from 2008-2016) as cooperating agencies, and TransWest will continue to collaborate with Utah counties as project development moves forward though the remaining pre-construction steps.
- XXX -