CARBON COUNTY, Wyo., Sept. 21, 2023 – Early construction work is now underway on the TransWest Express Transmission Project near Rawlins, Wyoming.
The 2023 TWE Project construction scope is intentionally limited to grading several miles of access roads and grading select transmission structure pads. This early earthwork is designed to allow TransWest Express LLC and its line construction contractor to test, verify and refine data gathering and reporting systems, compliance monitoring tools, and other key construction processes in the field and before winter.
Barnard Wilson Joint Venture is TransWest's construction partner for the transmission line and AC substations. In addition to successfully meeting all permitting and compliance requirements in order to start construction Sept. 19 in Carbon County, BWJV has been leading other pre-construction activities along the TWE Project route such as conducting constructability reviews, coordinating subcontractors, planning procurement, and completing various design and engineering studies.
When energized in late 2027, the high-voltage, interregional TWE Project will provide important new bulk transmission capacity and will connect three planning regions in the West: WestConnect, NorthernGrid and the California Independent System Operator.
In addition, the TWE Project will interconnect with the PacifiCorp system in Wyoming, with the Los Angeles Department of Water & Power and Intermountain Power systems in Utah, with the NV Energy system in Nevada, and with the California ISO. The TWE Project will provide the West with new access to wind-generated electricity from Carbon County, home of America's best onshore wind resources.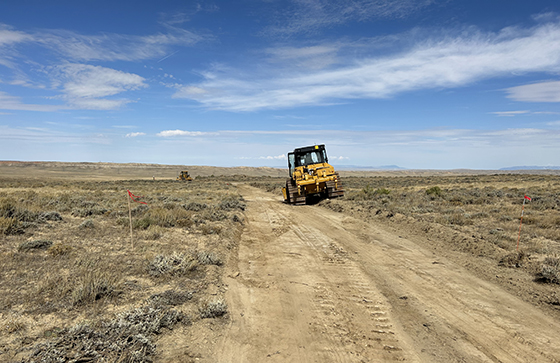 Heavy equipment operators and environmental compliance monitors began construction activity on the TWE Project on Sept. 19 in Carbon County, Wyoming. GIS data and stakes help assure that all activity stays within authorized areas.
- XXX -