730-mile preferred alternative route identified after years of environmental analysis
DENVER, Colo., April 30, 2015 — Federal agencies have published the Final Environmental Impact Statement for the TransWest Express Transmission Project, a regional electric transmission system proposed by TransWest Express LLC to add 3,000 megawatts of transmission capacity to the western U.S. electric grid, provide access to cost-effective wind energy supplies and reduce regional greenhouse-gas emissions.
A Notice of Availability of the Final EIS from the U.S. Department of the Interior and U.S. Department of Energy is anticipated to appear in the May 1 Federal Register, the official publication of the federal government. The notice begins a 30-day availability period.
The approximately 2,550-page printed Final EIS document for the TWE Project was prepared by the Bureau of Land Management and Western Area Power Administration as joint lead federal agencies. It results from more than six years of environmental analysis, public input and collaboration among 50 federal, state and local cooperating agencies. The report informs the public of various factors associated with this transmission line, including its potential ecological, aesthetic, cultural, economic and social effects.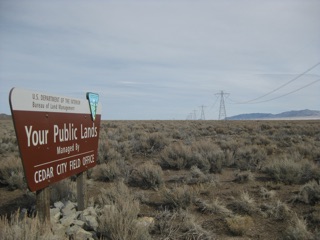 After review of thousands of miles of potential routes, the Final EIS also identifies the agencies' preferred alternative from south-central Wyoming, to the site of a potential interconnection to the existing grid near Delta, Utah, and then to the Marketplace Hub in southern Nevada, where this electricity hub wheels power from Hoover Dam and other sources and provides interconnections to the California, Nevada and Arizona grids. Two-thirds of the approximately 730-mile preferred alternative route lies on federal land principally managed by BLM. The TWE Project follows designated utility corridors and is co-located with existing transmission when possible to avoid and minimize impacts.
"Completing this major federal environmental analysis is an important milestone that advances the TWE Project closer to construction while furthering national goals to create access to high-capacity renewable energy resources. We look forward to BLM and Western issuing their records of decision in the months ahead," said Bill Miller, president and CEO of TransWest, an independent transmission developer. "We appreciate the work of BLM and Western, and the local communities, to develop a route for the project that reflects environmental balance, economic viability and extensive public input."
"We are here to help strengthen the energy highway by connecting communities with reliable power and clean generation," said Western CEO and Administrator Mark Gabriel. "Our coordinated work with BLM on this comprehensive review of the environmental impacts and mitigation measures has been productive and will guide our future decision-making."
Western, a power marketing administration within the Department of Energy, is supporting the development of the TWE Project. Following the Final EIS availability period, BLM and Western each will issue a record of decision that documents the agency's decision pursuant to its unique purpose and need, including any required conditions and stipulations.
The TWE Project is a 600 kV high-voltage direct current (HVDC) transmission line engineered with typical lower-visibility lattice structures to complement existing lines in the western landscape. It is designed to deliver about 20,000 gigawatt-hours per year of clean and sustainable energy — enough for nearly 2 million homes — to multiple utilities in California, Nevada and Arizona that seek cost-effective supplies of renewable power to provide to their retail customers. South-central Wyoming is home to the nation's highest-capacity onshore wind energy resources, with capacity factors in excess of 40%.
In addition, the TWE Project will create a critical link between the diverse renewable resources in the Rocky Mountain and Desert Southwest regions to efficiently transmit energy to utilities in both regions when the wind blows and the sun shines. This will foster a cleaner, more resilient western U.S. power grid while also helping address integration challenges.
As a significant regional transmission line, the TWE Project will create up to 1,000 construction-related jobs each year during the estimated three-year construction period. TransWest has entered into Partnering Agreements with The International Brotherhood of Electrical Workers and the International Union of Operating Engineers for the development and construction of the TWE Project.
All public documents related to the Final EIS are available from the federal agencies on their NEPA documents website. The initial right-of-way application for the project was filed Nov. 30, 2007. The federal agencies completed a 90-day public scoping period in early 2011, including hosting 23 public meetings; and the Draft EIS was published July 3, 2013, followed by a 90-day comment period with 13 public meetings/hearings.
Learn more:
Facts about BLM's programs and goals for transmission development on federal land.
Facts about Western's Transmission Infrastructure Program.
Facts about TransWest and the TWE Project.
- X X X -
Media contact:
Kara Choquette, TransWest Express LLC, 303-299-1395, kara.choquette@tac-denver.com