TWE Project: benefits for the country and local communities
The TransWest Express Transmission Project will deliver significant national and local benefits, including creating and sustaining jobs and helping utilities minimize consumers' electricity costs.

Economic benefits
TransWest will pay property taxes in every state and county that the transmission line traverses, augmenting state and local government budgets. If Western Area Power Administration, part of the U.S. Department of Energy, decides to jointly own the TWE Project, Western will be exempt from paying property tax on its portion because it is part of the federal government. There is no such exemption for TransWest, which will pay property taxes based upon the assessed value of the fair market value of the TWE Project. Based on the route and assuming the counties' average tax rates and 2014 mill levies, TransWest estimates $11.3 million - $15.2 million will be paid in total property taxes in year 1, as outlined below. TransWest will continue to pay property taxes over economic life of the project. Property tax payments are estimated to slightly decrease annually based on how states depreciate the project.
| | | |
| --- | --- | --- |
| | Estimated fair market value | Estimated property taxes paid, Year 1 |
| Wyoming | $886 million - $1.2 billion | $3.4 million - $4.7 million |
| Colorado | $114 million - $164 million | $604,000 - $869,000 |
| Utah | $487 million - $701 million | $2.9 million - $4.2 million |
| Nevada | $814 million - $1 billion | $4.4 million - $5.4 million |
| Total | $2.3 billion - $3.1 billion | $11.3 million - $15.2 million |
In addition, TransWest anticipates the purchase and delivery of construction materials, substation equipment and transmission towers will generate an estimated minimum of $50 million in total sales and use tax revenue, depending on the final project ownership structure and how state tax laws are applied.
| | |
| --- | --- |
| | Estimated sales/use taxes |
| Wyoming | $19.7 million |
| Colorado | $1.0 million |
| Utah | $5.3 million |
| Nevada | $24 million |
| Total | $50 million |
These millions of dollars in tax revenues do not include the millions in sales/use tax payments that may be spurred by other existing or new businesses investing in new equipment or services to support the construction of this transmission line, or the additional sales/use/lodging tax revenues spurred by workers staying in local hotels, campgrounds and RV parks.
Finally, the TWE Project will provide important new connectivity between the utilities in California, Nevada and Arizona that have mandates to provide their customers with more renewable energy and the state of Wyoming's high-capacity wind farms that generate very cost-effective renewable energy supplies. This will help utilities minimize their customers' electricity bills and better manage their operational costs.
Multiple strong economic cases have been made for remote renewable resources delivered by new transmission lines to densely-populated markets, as recognized by the Department of the Interior, Department of Energy and others. The higher quality and higher volumes of renewable energy available in some remote areas greatly offsets the capital required to build the transmission capacity.
For example, the DOE-sponsored 10-Year Regional Transmission Plan, produced by the Western Electricity Coordinating Council in 2011, found that cost-effective remote resources could provide hundreds of millions of dollars of savings for ratepayers per year, as compared to local renewable resources. Specifically, the economic analysis noted that the TWE Project could help California ratepayers save on the order of $600 million every year, which translates to billions of dollars in savings for customers over time.
The 2009 "Green Power Superhighways" report, jointly prepared by the American Wind Energy Association and Solar Energy Industries Association, also recognized the consumer cost benefits of improved transmission. The paper notes:
"A robust transmission grid provides consumers with access to lower-cost electricity. On a severely constrained transmission grid, as now exists in many parts of the United States, consumers are forced to rely on local power plants even though plants in other regions can produce power more efficiently and at lower cost.

"The effect of higher electricity prices goes beyond financial hardship for residential consumers. Businesses pass higher electricity costs on to their customers, and electricity-intensive industries have a strong incentive to relocate to regions with lower electricity costs, taking jobs with them.

"New transmission infrastructure would increase competition in wholesale power markets... a weak grid makes it possible for power generation owners in constrained sections of the grid to raise prices beyond what they would be in a competitive market."

Environmental benefits
The TWE Project will deliver enough clean, sustainable energy to power more than 1.8 million homes in densely populated areas of the country, thereby reducing the need for these regions to depend on fossil-fuel electric generating sources. Among the environmental benefits of the TWE Project and the wind electricity it will carry:
Reduce greenhouse-gas emissions equivalent to taking 1.5 million cars from the road.
Reduce greenhouse-gas emissions equivalent to shutting down 1,062 MW of coal generation.

Employment opportunities
The owner's engineer estimates that up to 1,000 construction jobs will be created for the duration of the three-year construction phase of the TWE Project, jobs that will follow the transmission line as it is built.
Estimated jobs over the three-year construction period:
| | |
| --- | --- |
| Type | Number |
| Direct construction jobs per year at peak | 675-1,050 |
| Direct construction jobs per year average | 300-450 |
| Indirect jobs in the project area | 1,000 |
| Indirect jobs nationally | 3,000-5,000 |
| Line maintenance jobs after project completion | 10-20 |
Additional jobs will be created to build the terminals/substations in Carbon County, Wyo., and Clark County, Nev.
Estimated jobs over the two-year construction period:
Type
Number
Direct construction jobs per year at peak
360-500
Direct construction jobs per year average
160-300
Indirect jobs in the project area
600
Indirect jobs nationally
2,000-4,000 over a
3-year period
Operations/maintenance jobs after project completion
25-50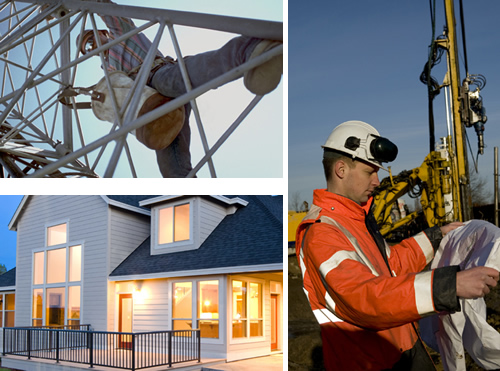 Highlights
Creates construction jobs
Boosts demand for local products and services during construction
Provides additional local tax revenues
Increases stability, capacity, reliability of entire western power grid
Gets more energy to the highest demand centers, freeing up more energy elsewhere
Facilitates delivery of more renewable energy, contributing to national emissions reduction goals
Provides California, Nevada and Arizona utilities with access to the west's most cost-effective renewable energy supplies
Offers opportunity for potential future interconnection with the IPP transmission system near Delta, Utah.
Stay informed

Join TransWest's email list to receive periodic updates and meeting notifications.

Follow us on Twitter.
---
In the news
"We need to get aggressive on building the electron superhighway. If we are not able to move forward with availability of transmission, we can study the potential of solar and wind and geothermal until the cows come home and it's not going to get done."
- Interior Secretary Ken Salazar, March 2009, in response to questions at a hearing before the Senate Committee on Energy and Natural Resources