Maps and visuals
The proposed route for the 600 kilovolt direct-current transmission line is approximately 725 miles in length, with a typical right-of-way width of 250 feet. Two substation/converter stations, approximately 200 acres in size, will be constructed at each terminating point. In addition to the proposed route, the right-of-way application submitted to the Bureau of Land Management by TransWest Express LLC includes alternative routes.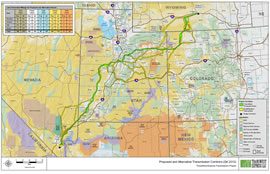 Power lines
Along the route, transmission structure heights may vary from 100 feet to 180 feet depending upon structure type, terrain, span and line crossings. The span between structures may vary from 900 to 1,500 feet.
Conceptual structures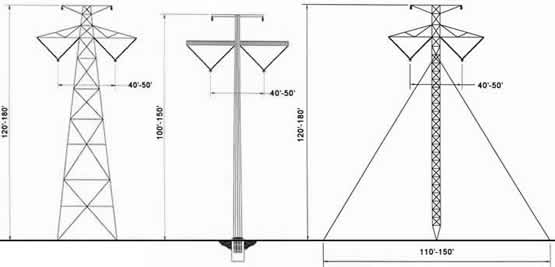 Single-circuit steel-lattice
self-supporting structure
Single-circuit monopole
tubular steel structure
Single-circuit
guyed structure
Site contents copyright © 2009-2012 TransWest Express LLC unless otherwise noted.
Site map