News and updates
TWE Project news
Nov. 20, 2017
Updating Utah counties at annual conference
Nov. 17, 2017
TWE Project earns Accepted Rating from WECC
Sept. 5, 2017
Talking about energy in the Uintah Basin
May 31, 2017
USFS issues its Record of Decision for the TWE Project
May 19, 2017
TransWest contributes to Utah, Wyoming state energy events
Jan. 17, 2017
WAPA issues its Record of Decision for the TransWest Express Transmission Project
Dec. 13, 2016
Interior Department approves the Record of Decision for the TransWest Express Transmission Project
Sept. 22, 2016
Ute Tribe, TransWest collaborate for successful construction of the TransWest Express Transmission Project
Sept. 2, 2016
TransWest among Uintah Basin Energy Summit sponsors
May 31, 2016
Trio of conferences supported by the TWE Project
Nov. 16, 2015
7 years of sponsorship at UAC annual convention
May 26, 2015
Final EIS draws interest at 4th Utah energy summit
April 30, 2015
BLM, Western publish Final Environmental Impact Statement for the TWE Project
Nov. 26, 2014
BLM/Western publish fifth EIS update newsletter
Nov. 17, 2014
TransWest sponsors UAC's 90th annual convention
July 28, 2014
TWE Project environmental analysis continues to move ahead
June 6, 2014
TransWest steps up at 3rd annual Utah energy summit
March 24, 2014
NREL economic analysis commissioned by WIA confirms significant benefits of Wyoming wind for California
Nov. 16, 2013
TransWest marks 5 years as UAC annual convention sponsor
Sept. 14, 2013
Reminder: 90-day Draft EIS comment period remains open until Sept. 30 for TWE Project
Aug. 1, 2013
TWE Project Draft EIS, public open houses in the press
July 3, 2013
BLM, Western publish Draft Environmental Impact Statement
for the TWE Project
Previous headlines
TWE Project in the news
June 19, 2017
Bureau of Reclamation
BOR issues its Record of Decision for TWE Project
April 3, 2017
Federal Register
DOE Notice of Availability of WAPA's Record of Decision
Dec. 16, 2016
Federal Register
DOI Notice of Availability of BLM's Record of Decision
May 1, 2015
Federal Register
DOI/DOE Notice of Availability of the Final EIS
May 1, 2015
Federal Register
EPA Notice of Availability of the Final EIS
March 24, 2014
SNL Energy
NREL study: TransWest Express HVDC line a better deal than Calif. renewables
March 24, 2014
NREL
Study Indicates Economic Potential for Wyoming Wind Transmission to California
Feb. 8, 2014
Los Angeles Times
Firm seeks to harness Wyoming's wind energy for California
Jan. 24, 2014
Casper Star-Tribune
Wyoming wind power could save California ratepayers $750M, energy lab says
July 3, 2013
Greenwire
BLM advances major Wyo.-to-Nev. project
July 3, 2013
Federal Register
DOI/DOE Notice of Availability of the Draft EIS
June 28, 2013
Federal Register
EPA Notice of Availability of the Draft EIS
Feb. 19, 2013
Greenwire
Wyo. dreams of marrying wind to Calif. Markets
Feb. 1, 2013
E&E Publishing
Ventures aim to send Wyo. wind power south
Jan. 25, 2013
Wyoming Infrastructure Authority
UW study confirms Wyo. wind energy complements, benefits Calif.
Previous headlines
It's Time
Watch a video overview of TransWest's transmission line project.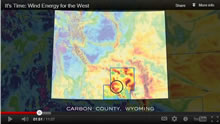 ---
2013 Draft EIS open house archive
Review our archive of materials from the Draft EIS public meetings.
---
2011 public scoping archive
Check out our archive of materials from the public scoping open houses.
---
Media contact
Members of the media with inquiries about the TWE Project should contact ,
Director of Communications, 303.299.1395
---
Stay informed

Join TransWest's email list to receive periodic updates and meeting notifications.

Follow us on Twitter.
---
Additional links
---
In the news
"We need to get aggressive on building the electron superhighway. If we are not able to move forward with availability of transmission, we can study the potential of solar and wind and geothermal until the cows come home and it's not going to get done."
- Interior Secretary Ken Salazar, March 2009, in response to questions at a hearing before the Senate Committee on Energy and Natural Resources