Why wind energy?
Wind and solar infrastructure have been cited in numerous studies as the most economic large-scale resource alternatives to meet the renewable and clean energy demands throughout the country and in the Desert Southwest.
According to the National Renewable Energy Lab, southeast Wyoming has one of the densest concentrations of high class wind energy potential in the country. NREL data shows that over 50 percent of the best quality (Class 6 and 7) wind capacity in the continental United States is located in Wyoming. This Class 6 and 7 wind resource has an energy potential of 235,000 GWh/yr. Wyoming's Class 4 and above wind resource has a potential of 944,000 GWh/yr.
Two recent studies, one by the Western Electric Industry Leaders, have looked specifically at regional renewable energy alternatives, including remote resources supplied through new transmission infrastructure, to meet the needs of the Desert Southwest. Wyoming wind resources were identified as one of the most economic alternatives to meet a portion of the overall needs. The TWE Project will cost-effectively provide up to 20,000 GWh/yr of the estimated 55,000 GWh/yr need for renewable energy.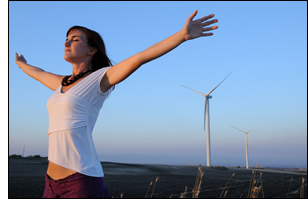 Often, the best wind resources are found in remote areas far from urban centers where the demand is the greatest. Thus, transmission infrastructure is required to make renewable energy development feasible, which in turn will enable the U.S. to meet both its energy needs and environmental policy objectives. In its July 2008 report, "20% Wind Energy by 2030," the U.S. Department of Energy recognized the challenge of bringing wind energy to the market.
According to the DOE report: "Transmission must be recognized as a critical infrastructure element needed to enable regional delivery and trade of energy resources, much like the interstate highway system supports the nation's transportation needs… Significant expansion of the transmission grid will be required under any future electric industry scenario. Expanded transmission will increase reliability, reduce costly congestion and line losses, and supply access to low-cost remote resources, including renewables."
However, the existing transmission capacity available to export electric energy from Wyoming is fully committed. These constraints led to recommendations for transmission expansion along routes that are similar to the one proposed by TransWest from the Western Governors Association, the Rocky Mountain Area Transmission Study, and the Clean and Diversified Energy Advisory Committee.
Learn more online
For more information about wind energy and its benefits:
---
Reports on renewable transmission
---
Stay informed

Join TransWest's email list to receive periodic updates and meeting notifications.

Follow us on Twitter.
---
In the news
"We need to actually move on the transmission side of things."
- David Turk, Deputy Energy Secretary, March 2021