Site map
About the project
Contacts and vendors
Public responsibility
Public scoping
News & updates
Videos
Stay informed

Join TransWest's email list to receive periodic updates and meeting notifications.

Follow us on Twitter.
---
It's Time
Watch a video overview of TransWest's transmission line project.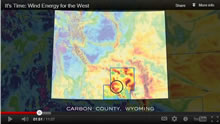 ---
In the news
"(Gov. Dave Freudenthal) said Wyoming residents must accept the fact that power lines are going to cross Wyoming because they are required to transport Wyoming's energy to market."
- Wyoming Business Report story, Jan. 11, 2010