Site map
About the project
Contacts and vendors
Public responsibility
Public scoping
News & updates
Videos
Stay informed

Join TransWest's email list to receive periodic updates and meeting notifications.

Follow us on Twitter.
---
It's Time
Watch a video overview of TransWest's transmission line project.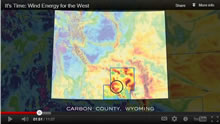 ---
In the news
"To accelerate the creation of a clean energy economy, we will double our capacity to generate alternative sources of energy like wind, solar and biofuels over the next three years. We'll begin to build a new electricity grid that lay down more than 3,000 miles of transmission lines to convey this new energy from coast to coast."
- President Barack Obama, weekly address, Jan. 24, 2009