Site map
About the project
Contacts and vendors
Public responsibility
Public scoping
News & updates
Videos
Stay informed

Join TransWest's email list to receive periodic updates and meeting notifications.

Follow us on Twitter.
---
It's Time
Watch a video overview of TransWest's transmission line project.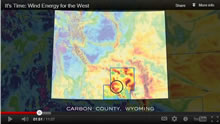 ---
In the news
"Across America, farmers and ranchers and forest landowners are seeing the beginning chapter of what will be a long-term challenge posed by a changing climate. This problem is not going to go away on its own. That's why America must take steps now to adapt."
- USDA Secretary Tom Vilsack, June 2013