Site map
About the project
Contacts and vendors
Public responsibility
Public scoping
News & updates
Videos
Stay informed

Join TransWest's email list to receive periodic updates and meeting notifications.

Follow us on Twitter.
---
It's Time
Watch a video overview of TransWest's transmission line project.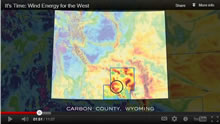 ---
In the news
"We need to get aggressive on building the electron superhighway. If we are not able to move forward with availability of transmission, we can study the potential of solar and wind and geothermal until the cows come home and it's not going to get done."
- Interior Secretary Ken Salazar, March 2009, in response to questions at a hearing before the Senate Committee on Energy and Natural Resources