Site map
About the project
Contacts and vendors
Public responsibility
Public scoping
News & updates
Videos
Stay informed

Join TransWest's email list to receive periodic updates and meeting notifications.

Follow us on Twitter.
---
It's Time
Watch a video overview of TransWest's transmission line project.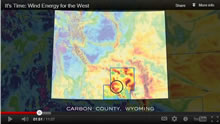 ---
In the news
"It is imperative that we continue to utilize all abundant natural resources located within the United States, including wind."
- Congressional Western Caucus Chairman Rob Bishop, April 2010