TWE Project news archive
Current headlines
Aug. 31, 2018
TransWest participates in Utah energy events
Nov. 20, 2017
Updating Utah counties at annual conference
Nov. 17, 2017
TWE Project earns Accepted Rating from WECC
Sept. 5, 2017
Talking about energy in the Uintah Basin
May 31, 2017
USFS issues its Record of Decision for the TWE Project
May 19, 2017
TransWest contributes to Utah, Wyoming state energy events
Jan. 17, 2017
WAPA issues its Record of Decision for the TransWest Express Transmission Project
Dec. 13, 2016
Interior Department approves the Record of Decision for the TransWest Express Transmission Project
Sept. 22, 2016
Ute Tribe, TransWest collaborate for successful construction of the TransWest Express Transmission Project
Sept. 2, 2016
TransWest among Uintah Basin Energy Summit sponsors
May 31, 2016
Trio of conferences supported by the TWE Project
Nov. 16, 2015
7 years of sponsorship at UAC annual convention
May 26, 2015
Final EIS draws interest at 4th Utah energy summit
April 30, 2015
BLM, Western publish Final Environmental Impact Statement for the TWE Project
Nov. 26, 2014
BLM/Western publish fifth EIS update newsletter
Nov. 17, 2014
TransWest sponsors UAC's 90th annual convention
July 28, 2014
TWE Project environmental analysis continues to move ahead
June 6, 2014
TransWest steps up at 3rd annual Utah energy summit
March 24, 2014
NREL economic analysis commissioned by WIA confirms significant benefits of Wyoming wind for California
Nov. 16, 2013
TransWest marks 5 years as UAC annual convention sponsor
Sept. 14, 2013
Reminder: 90-day Draft EIS comment period remains open until Sept. 30 for TWE Project
Aug. 1, 2013
TWE Project Draft EIS, public open houses in the press
July 3, 2013
BLM, Western publish Draft Environmental Impact Statement
for the TWE Project
Jan. 26, 2013
Renewable energy projects featured in Los Angeles Times, Denver Post
Jan. 12, 2013
TWE Project showcased at Utah Governor's energy summit
Nov. 20, 2012
Local Utah leaders share TWE Project support at UAC convention
Oct. 26, 2012
BLM/Western publish EIS update newsletter
Aug. 10, 2012
National Clean Energy Summit 5.0 includes TWE Project focus
Feb. 27, 2012
IBEW supports construction of 3,000 MW TransWest Express
Transmission Project
Nov. 21, 2011
Keeping connected with counties at 2011 UAC Annual Convention
Oct. 5, 2011
Federal "Rapid Response Team for Transmission" selects TransWest Express Transmission Project
Sept. 29, 2011
WECC 10-Year Regional Transmission Plan outlines economic benefits of TWE Project
Sept. 9, 2011
Western, TWE execute development agreement for TransWest Express Transmission Project
Sept. 2, 2011
TWE Project showcased at National Clean Energy Summit
March 23, 2011
Public scoping period remains open until April 4 for TWE Project
Feb. 17, 2011
Public scoping open houses drawing crowds and comments
Jan. 4, 2011
BLM and Western publish Notice of Intent to prepare an EIS for TWE Project
Nov. 18, 2010
TWE featured in Renew Grid magazine, participates in UAC conference
Sept. 1, 2010
TWE talks transmission at Rock Springs Wind Road Show
March 4, 2010
TransWest Express LLC enters into agreement with Western Area Power Administration
Feb. 2, 2010
WECC rating process for TWE Project advances to Phase 2 status
Nov. 11, 2009
TWE sponsors 2009 UAC Annual Convention
Oct. 13, 2009
Wyoming Transmission Task Force publishes comprehensive report; TWE among contributors
Oct. 5, 2009
TWE completes WECC Phase 1 report, schedules review for Oct. 19
July 16, 2009
TWE supports wind collection task force
July 29, 2008
National Grid study concludes Wyoming wind farms are among the best renewable energy options for the Southwest
June 29, 2006
TransWest Express project's feasibility study on track with positive results
March 9, 2006
APS, National Grid and WIA announce cooperative study of new transmission lines
Oct. 21, 2005
APS to sponsor feasibility study for new transmisson project from Wyoming to Arizona
TWE Project in the news
An archive of articles available online that reference our project:
Jan. 24, 2013
Los Angeles Times
Plan would bring Wyoming wind power to California
Jan. 20, 2013
The Denver Post
Big bet on Wyoming wind
Jan. 20, 2013
The Denver Post
Why Wyoming's winds pack windpower punch
July 25, 2012
SNL Energy
Wyo. developers aim to deliver power to California
Oct. 13, 2011
Lauren Azar,
Dept. of Energy
Statement to Subcommittee on Energy and Power, House Committee on Energy and Commerce
Oct. 6, 2011
Wyoming Tribune-Eagle
Feds put transmission projects on fast track
Sept. 27, 2011
Casper Star-Tribune
Report: Wyoming wind would save California money
Sept. 23, 2011
Wyoming Infrastructure Authority
WECC 10-Year Regional Transmission Plan favorably positions Wyoming, TWE Project
Sept. 14, 2011
Fortune
The power struggle for Wyoming's wind
June 14, 2011
Wyoming Infrastructure Authority
NREL study confirms significant jobs, economic development
March 26, 2011
Las Vegas Review-Journal
Power line link plan includes Boulder City
March 10, 2011
Greenwire
Multi-state power line project to test policies
Feb. 13, 2011
Deseret News
Meetings will air details of mega transmission line
Feb. 10, 2011
Craig Daily Press
Editorial: Consider carefully
Jan. 5, 2011
Casper Star-Tribune
Work begins on TransWest transmission line study
Jan. 4, 2011
Federal Register
BLM/Western publish Notice of Intent to prepare EIS
March 17, 2009
Casper Star-Tribune
County readies for transmission project
July 31, 2008
Casper Star-Tribune
Banking on Wyoming wind
July 31, 2008
Reuters
Anschutz to lead TransWest Express grid project
Stay informed

Join TransWest's email list to receive periodic updates and meeting notifications.

Follow us on X/Twitter.
---
Media contact
Members of the media with inquiries about the TWE Project should contact Kara Choquette,
Director of Communications, 303.299.1395
---
Additional links
---
Ceremonial Groundbreaking
Watch highlights from the TWE Project ceremonial groundbreaking event, held June 20, 2023, in Carbon County, Wyoming.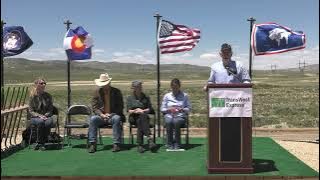 ---
It's Time
Check out a video overview of TransWest's transmission line project.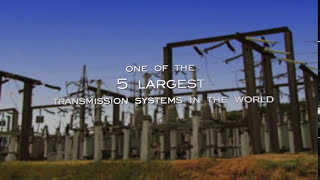 ---
EIS information archive
---
In the news
"To accelerate the creation of a clean energy economy, we will double our capacity to generate alternative sources of energy like wind, solar and biofuels over the next three years. We'll begin to build a new electricity grid that lay down more than 3,000 miles of transmission lines to convey this new energy from coast to coast."
- President Barack Obama, weekly address, Jan. 24, 2009